LIVE DELICIOUSLY with Heathen By Mather Louth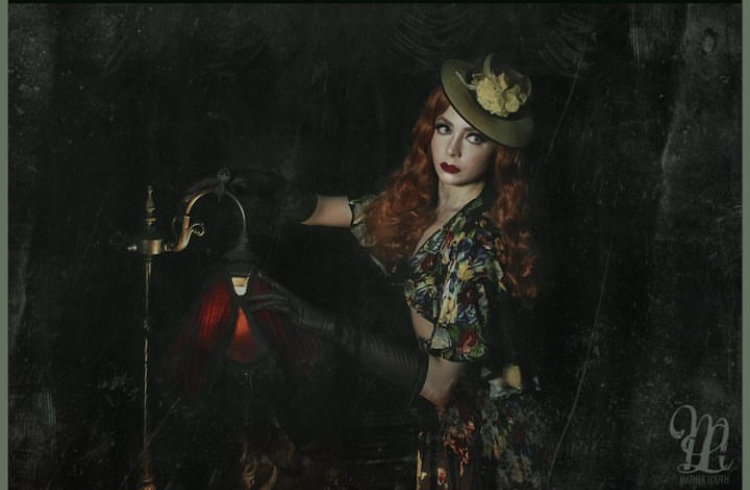 Helmed by Mather Louth, Heathen by Mather Louth creates one of a kind bespoke Victorian lampshades that are a timeless and luxurious addition to any home. Inspired equally by the opulence of the past while also offering a modern maximalist flair, each lampshade is hand sewn with precision and an attention to detail using a combination of unique vintage (sometimes deadstock!) and carefully sourced modern textiles and trims.

Whether you've been desiring a more classic vintage styled fringe lampshade for your Art Deco/Art Nouveau boudoir, a piece inspired by the lush beauty of East India and Morocco, a darkly decadent gothic lampshade, or a bold jewel toned statement lampshade, Mather can bring your design visions into reality. Mather is also happy to offer design consultations should you not be sure as to what you're looking for.
Ever since she was a little child sewing costumes for her miniature toys, Mather Louth has displayed the telltale signs of a born designer. Not satisfied with the trappings of store bought fashions, Mather collaborated with her grandmother to design both of her prom dresses, and would often sew with her mother and grandmother to create unique ensembles. On a dare (and despite having no formal training), Mather entered famed British milliner Stephen Jones' 2011 hat design competition created in conjunction with British Vogue, and succeeded in becoming the only American to be shortlisted by the designer himself. Since then, Mather has immersed herself in sewing and design work, and has gone on to create countless costumes and wardrobe for her work as an art model as well as lead singer of Los Angeles based gothic Americana band Heathen Apostles.
While in the past, Mather has reserved commissioned design work solely for friends and loved ones, the pandemic brought on a strong desire to connect and collaborate. Thus, after learning the art of lampshades to decorate her own home, Mather has decided to offer her design services to the public after a long hiatus.
Each lampshade is an ode to slow fashion and sustainability; nothing is rushed, nor are any corners cut. In particular, Mather truly enjoys the challenge of applique work, and will cut apart countless pieces and reassemble them into flowing, harmonious design motifs.